Best Betting Sites With Free Registration Bonus in South Africa
These bonuses vary from a R1000 up to an eye watering R15000 with each bookie adding a unique touch to their offers. We will provide you with the betting sites with sign-up bonuses and also No Deposit bonuses.
We have used our extensive experience and researched into the best betting bonuses in the country. You can rest assured that all the sites we review are legal and have built a solid reputation.
This is surely great news for you, all you need to do is choose the bookie that best suits you. Let's get to it immediately!
We have researched all the online bookies in South Africa and we have found the following bookies to be the best in certain types of bonuses.
Editors Choice 10BET bonuses
10Bet has fantastic offers for both new and existing players.
Visit the 10Bet Promotions page for the full list of great bonuses!
Here is a brief breakdown of the bonuses on offer at 10Bet.
First deposit match offer of up to R1000 on sports
15 % Weekly Cash Back on all losses from the previous week.
Get started with the bonuses below!
So take a look at our list of betting sites with free registration bonuses and see which site is the best fit for you:
R25 Sign Up Bonus
There are not many bookies that offer the R25 sign up bonus any longer but we have made a list of those that still offer it below.
R50 Sign Up Bonus
As we have mentioned above the Sign Up bonus has become very scarce with bookmakers. There are however some bookies that have a great R50 Sign Up Bonus. We have listed them in the table below.
R100 Sign Up Bonus
The R25 and R50 sign up bonuses are only offered by a few bookies, so it's no surprise that there is no bookie that currently offers a R100 Sign Up Bonus.
The closest to this bonus is 10Bet offering new players a R100 first deposit match offer.
More about Casino Bonuses
Types of Free Bets Bonuses
When you receive free bets, you can place wagers worth the free bet amount. So if you have an R20 free bet, your next R20 wager would be under the bonus. Even if you have money in your bookie account, they won't charge you till you exhaust the offer.
Bookies popularly offer free bets in varying kinds to players. We would like to categorize them based on the requirements to get them. We broadly put them into four types. Let's take a moment to explain what each of them entails.
Read also: International Betting Sites
How to Choose a Bonus
Based on our observations and testing, we take many factors into consideration before we rate a bookies bonus offer. This is done because some betting sites may offer a bonus but there is great difficulty in accessing the bonus or the wagering requirements are tough to fulfil. It is important to take these factors into consideration before committing to a betting site
Video-Guide: How To Choose a Bonus
We have created a video that explains the different types of bonuses available to punters along with things like wagering requirements and the length of time you have to use the bonus.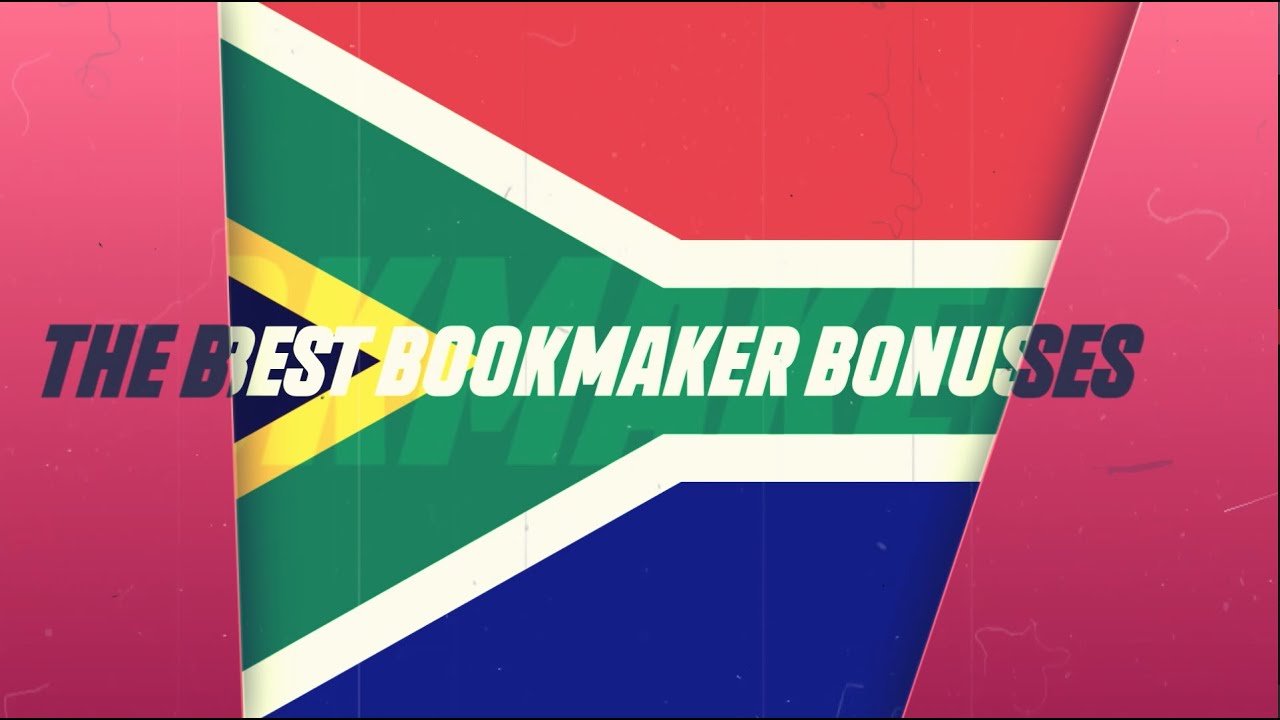 High maximum and low minimum bonus
The best online bookmaker offers punters the highest possible bonus amount with a 100% match on the first deposit. Usually this gives you more options to wager and win with bonus amounts starting from R50.
As per the matching percentage, great bookmakers will offer you at least a 100% percent bonus on the deposit. This means the bonus amount will equal the deposit amount.
You should look for a low minimum deposit too, so you can grab a bonus with almost any amount of money.
Low rollover requirements
All bonuses, even top betting offers, have a rollover requirement that must be met before you can turn your bonus and any winnings into cash. Bookies require punters to bet a certain amount of money in a fixed amount of time before they can withdraw the earnings.
For example, 10x rollover means you must wager 10 times more than your bonus. If your bonus equals R1 000, then you must wager R10 000.
A relatively low rollover requirement is a trait the best online betting sites offer. It is easier for a punter to wager a bonus 10 times than 15 or more.
Good rollover requirements for large bonuses should be between 5x to 10x. A small bonus should have a 1-5x rollover.
Wagering requirements
When a punter receives a bonus, the bookie will impose wagering requirements such as types of bets one can place, minimum and maximum stake of a bet, minimum and maximum odds. Only the wagers which adhere to these requirements will qualify towards the rollover.
The minimum and maximum odds are the least and the greatest odds punters can use when rolling over the bonus. Great minimum goes as low as 1.5 with a good enough level being up to 1.80.
Lower odds let you wager the amount you need with lower risk. As per the minimum and maximum bet, top bookmakers offer no such restrictions at all, thus letting you bet as small or as big amounts as you like when rolling over the bonus.
Most bookie bonuses usually don't include a limitation on the sporting events or type of bets you can wager on.
Validity period
A validity period is a time in which the promotion requirements must be met for the bonus and the winnings be eligible for a withdrawal. A time is set as the expiration date after which punters can no longer make use of the bonus as it becomes null and voided. Best betting offers mostly have 30 days and more included as the validity period. Lower than a 30 days period is usually a bad sign.
In South Africa I have personally used all of the sites listed on this website and of course the rollover is one of the most important criteria to consider and not only the size of the bonus.
World Sports Betting has an incredible first deposit offer of up to R10.000 but the rollover is 7x the bonus, meaning you have to bet a whopping R70 000 to fulfil the rollover requirements which is not practical unless you are a high roller.
Playabets on the other hand offers you a R 1000 first deposit offer but the rollover is the lowest in the country at 3x the offer.
You can even use your bonus on multi bets which makes the Playabet Welcome Offer arguably the best on the local betting scene. Remember to read the terms and conditions of all bonuses before you sign up with a bookie.
Reasons on why a player may be refused a bonus
Bookies offer players great incentives to join their site like matching their first deposit or giving them a bonus for simply signing up. Every bonus that is offered by the bookie comes with its own set of terms and conditions otherwise known as wagering requirements. These are some of the scenarios that a bookie will refuse you the bonus:
It may be that they suspect you are operating accounts in other people's names to perhaps to get around the fact that your personal account has already been closed or limited, or possibly to claim multiple bonuses. This is another reason that bookies do not allow accounts to be opened from people using the same IP address for example.
Bookies are businesses and businesses generally have making an overall win as their number one aim. If a punter only ever uses their account when they are offered a freebie then they are unlikely to get any major net wins and may even cost the bookie money. If a player rarely deposits and only does so when offered a bonus, a bookmaker may continue to offer bonuses for a while. However, eventually, when it becomes apparent that the customer is not a typical recreational punter who enjoys the occasional bet but is just after a free lunch, the site is almost certain to pull the plug.
Betting on all outcomes of a match with your bonus will immediately raise red flags. This will typically happen if the only time you are using the account is when it is in conjunction with some form of bonus, money back deal, offer or promo. It is even more likely to happen if you appear to be using the offer in a way that makes it very likely that you will get a net win. For example, if you get given a R1 000 bonus and place that on over 2.5 goals, then use your own cash to bet on under 2.5 goals, this is likely to raise a flag as what the bookie would deem bonus abuse.
World Sports Betting (WSB) R50 Free Registration Bonus
WSB sports betting, the fan's bookie, is very popular for their R50 Free registration bonus. This promotion is valid for all new sign-ups. The bookie does not demand a FICA check for you to receive this bonus.
Once you sign up in WSB, they will conduct a small security check; you get the bonus in your betting account once you pass.
Of course, bookmaker imposes its demands so that people don't go about opening new accounts solely for the bonus. Read the terms and conditions of WSB registration bonus below:
You can only claim this offer within the first 72 hours of registering your account. If, for some reason, you are not able to pass the security check within the first 72 hours of signing up, you bid the R50 farewell.
If, after completing the security check, you cannot receive your bonus, you have the right to contact support for inquiries.
You cannot withdraw the R50 immediately after you get it. It is strictly for betting.
Even after betting and meeting the wagering requirements, WSB demands that you deposit R50 before you can withdraw the bonus.
Although they don't demand FICA checks to claim the bonus, you can only withdraw after completing FICA verification.
The requirements are easy, and no one should have issues meeting up with them. However, it is best to stick with them to avoid complications.
WSB only allows one person per family to claim this bonus. If you attempt to receive it more than once in any dubious way, the bookie may remove and prevent you from enjoying the promotion.
Gbets R25 Free Registration Bonus
Gbets online is a popular brand doing a great job satisfying every customer. Part of their grand welcome for players is an R25 sports betting sign up bonus. But, as the name implies, you can only use it for sports, so it doesn't apply to games like lotto.
Receiving this sports betting welcome bonus is easy, and you don't need any code to claim it. They don't mandate FICA verification to receive it also. Once you register on gBets, you will find a pop-up describing the bonus within the accounts section. Simply hit claim, and the bonus will enter your account.
To enjoy this offer, you need to stick to their requirements:
This offer is restricted to only sports and no other game. You can use it to place either live or pre-match bets.
The period of validity is 48 hours. Since the bonus is not too large, you can use it within 48 hours. If it passes that time limit without you exhausting it, it will leave your account.
The minimum odds for placing bets with this bonus is 1.5.
You can only win a maximum of R25 with this bonus. Immediately you hit this threshold, Gbets will credit your account with R25 and, in turn, remove their R25 bonus. So, you are left with R25 in your account in the end.
To withdraw the R25 profit, you must deposit R25 and turn it over once.
Once you complete these demands, the bonus will be fully yours. Note that this bonus is restricted to one account per person, so you cannot enjoy it more than once. Make it count!
Playabets R25 Free Registration Bonus
Another bookie generous enough to offer free incentives is www.playabets.co.za. They are also reputable brands with a good record of serving customers' best interests. They are one of the best betting sites with free registration bonus.
The R25 free registration offer is valid for new sign-ups in Playabets and old users who never claimed it. After successful registration, log in to your account, and you will find it in the bonus offer section. Claim it, and it should enter your account almost immediately. You don't need any code or FICA verification to claim this offer.
They also have some requirements that you must follow if you want to withdraw your profits:
This of all betting promotions is valid for only 48 hours after claiming it. If you don't play with it within 48 hours after claiming it, Playabets will remove it from your free betting bonus balance.
You need to turn the R25 four times to make it eligible for withdrawal.
For single bets with this offer, you need to play with a minimum odds of 1.20. For multiple bets, you need to play a minimum of 2.0.
When it is eligible for withdrawal, you need to deposit at least R25. And you must play with a minimum odds of 2.0.
If you are on any promotion or bonus, you cannot claim the R25 bonus simultaneously.
Once you meet their demands, you can withdraw your profits without any opposition. Although they don't demand FICA verification while you play with the Playabets bonus, you need to verify before you can withdraw. You can only claim it once.
The Best Free Bet Bonuses In South Africa
We have listed all the bookies that offer free bet bonuses so that you don't waste time searching for the best bookies.
Get started with the bonuses below!
What could be better than being able to bet for free? It's a joy knowing that you could win real money without staking your cash. Some bookies are generous enough to dish out these offers.
As you may already know, you cannot withdraw these free bet bonuses immediately after you claim them. You must use them to stake; the profit is what you are after. Let's consider the best free bet offers.
World Sports Betting (WSB) R50 Free Bet Bonus
WSB is well known for its bountiful offers. They also top our list for free bets, as they offer one of the biggest in the South African market. When you register, you stand a chance to claim an R50 Free bet.
When you register your new account, they demand that you complete a quick security check. This security check is not FICA; it is only to verify that you are not a bot.
After passing the check, you can claim your R50 free bet. You don't need any promo code or FICA verification to claim this bonus. The catch is that you must do the verification before you can withdraw.
Playabets R25 Free Bet Bonus
Playabets is not new to the industry, and for long, they satisfied their South African players. One way they still attract players is through their exclusive free bet bonuses.
The Interesting thing about this bonus is that it is not restricted to only new players. In other brands, players that sign up before they begin promotions like this miss out on it. However, with Playabets, things are a little different.
If you never enjoyed the R25 sign up bonus bet offer while signing up, then head to the promotions section and claim it. New players do not need any FICA verification to enjoy it. But the brand mandates it before you can withdraw.
Gbets R25 Free Bet Bonus
Gbets is not alien to both new and old bettors. The brand has been around for a while, and they also offer an R25 free bet bonus. New players can enjoy this offer, and they don't need a Gbets bonus code to claim it.
You don't also need any FICA verification to enjoy this offer. Although before you can withdraw the profits, you need to complete your verification.
The bonus remains one of the easiest, and you need only one click to get it into your account. This Gbets R25 free bet bonus is only the first of many.
Other Bonuses
If you think free bets are the only available betting bonuses in South African bookies, you have it all wrong. Our analysis of the various bookies showed that free bets are just one of the many different types of bonuses available to players.
While some offer deposit bonuses, others work with more dynamic offers as you use their services. Let's see some other bountiful incentives from these bookies.
Matched betting or how to improve bonus' wagering
The matched betting system means that you will be placing opposing bets, one on win and one on loss to cover all potential outcomes of a sporting event. This betting technique gets rid of risk and the need to rely on luck. It allows you to turn free bets into real money without risking your own money.
This form of betting cannot be used at a single online bookie as there are rules against using your Welcome Bonus to bet on the win and loss in a single match. You will need to register at two bookies for example and use the bonus to back the win at one site and back the loss at the second site. This way you will have real money to play at either site depending if the chosen team wins or loses.
Online bookmakers want to attract as many new customers as possible and they're willing to try anything to grab your attention. In order to attract new customers, many bookmakers offer Welcome Bonus promotions to encourage people to sign up. A popular offer will be along the lines of 1st deposit match offer up to R2 000. Now, with traditional betting, you can sign up, place a bet with your free bonus.
However, there's no guarantee that any of your bets will win and you may come away with nothing. The matched betting allows you to unlock the free bet and protect any money you use to place a bet with.
Every time you place a bet at one bookie with the free bet, you place a lay bet (an opposing bet against the same outcome) at the second bookie. This back and lay betting technique allows you to turn the bonus bets into real withdrawable money.
FAQ
World Sports Betting (WSB), Playabets, Gbet, Yesplay, Sunbet, Topbet, Bet.Co.Za etc.
World Sports Betting, Playabets, Gbets, 10Bet and Supabets.
World Sports Betting has the best welcome bonuses. They offer an R50 Free bet bonus and a 100% deposit bonus matched up to R10000 (the wagering requirements are not too tasking, so you can easily clam them)
Sites like Playabets and Gbets with free bonuses also give it on their app. If a brand has betting apps, the users will also enjoy the betting site free bonus.
Yes, all bookies in this article are legal and licensed in South Africa. We would never recommend illegal bookmakers. All our picks are results of thorough testing and evaluation; we never settle for less.
World Sports Betting R10000 with first deposit bonus is the highest welcome bonus available in South Africa.
You can get it from World Sports Betting, 10bet and Supabets after registering.
Conclusion
Thanks to our practical knowledge, we can confidently say South African bookies have some of the best bonuses you will ever find around.
Therefore, we evaluated each bookie to ensure that not only are the bonuses good, but they also offer some of the best services in the business.
Why don't you give the free registration bonuses a try if you are in doubt? After all, what do you have to lose? It is not late to join the moving train.
So pick the bonus that appeals to you the most and give it a shot. You can't regret it!